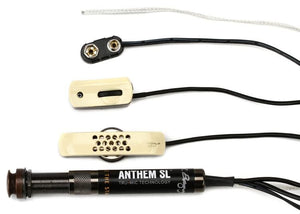 LR Baggs Anthem SL Soundhole Microphone/Undersaddle Acoustic Guitar Pickup
The LR Baggs Anthem SL Tru-Mic Acoustic Pickup gives you the clear, natural sound you want and none of the feedback or excess controls you don't!
This amazing, low-profile pickup is the result of decades of development. It's slim and remarkably easy to install, yet the Anthem SL is versatile enough to accommodate most string spacings and saddle widths.
It doesn't use fancy modeling or tone shaping - the Anthem SL is simply an expertly designed microphone that gets to the root of your guitar's natural and beautiful tone. Even its noise-canceling technology won't touch your sound, letting the clear and clean notes ring while keeping feedback at bay.
We ship same day so you get your gear fast!
Hope you snag this one up!!
---
We Also Recommend
---