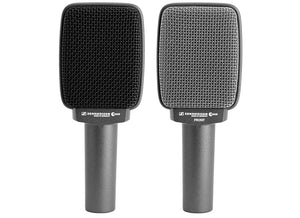 Sennheiser e 609 Silver Supercardioid Dynamic Guitar Microphone
You couldn't ask for a handier guitar amp microphone than the Sennheiser e609 Silver. Just like the classic MD 409, the e609 likes to be right up on the grille of your guitar cabinet, to the degree that you can just drape it over your amp and let it hang there in the right spot on your amp — no stand needed!

A natural 40Hz low-frequency cutoff prevents excessive boominess, and it's virtually impossible to overload the e609, so go ahead and crank it up. Other things to note are its clear sound, courtesy of a powerful neodymium magnet and hum-compensating coil.

We ship same day so you get your gear fast!

Hope you snag this one up!

---
We Also Recommend
---