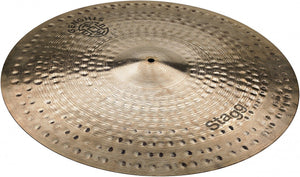 Stagg 21" GENG-RM21R Genghis Series Medium Ride Cymbal Cast 2138g
Here is a killer 'Genghis Series' Silk Road 21" CAST Medium Ride from Stagg!
The Genghis series is the 'top of the line' CAST and hand hammered series recently released. 
These 21" have been crafted using a deep hammering technique, for that crisp dark sound.
They have a very crunchy tone in all dynamics, making them perfect for all different styles of music!
This Ride weighs 2138g for a nice medium light response with beautiful wash.
We ship same day so you get your stuff fast!!
Hope you grab this cymbal for your kit!
---
We Also Recommend
---